Organizations Breeders Information Members' Photos Businesses
Links (A): Organizations
The following organizations do excellent work in helping cats, and other animals of course.
---
Links (B): Breeders
The Ottawa Valley Cat Club has members who are also breeders. Listed below are their catteries. If you do not find the breed you are looking for, feel free to contact any of these breeders to assist you in finding the cat of your dreams.
---
Links (C): Interesting and informative sites


Listening to Whispers
Edie Jane Eaton
Tellington TTouch®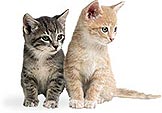 Declawing.com
If you are considering declawing your cat, please read this. It will only take a moment, and it will give you valuable information to help you in your decision.

---
Links (D): Members' favorite images

Tracy's Pet Photos (Tracy Lee Pitre)



For My Love Of Cats (Christine Romeo)

---
The following businesses have been associated with the Ottawa Valley Cat Club for several years, providing support and services. We encourage you to visit them.


Mostly Pewter (Bonnie Greer)
www.mostly-pewter.com